Drugdesigntech is proud to announce that Qualys SSL Labs has rated Biocorpora Cloud's SSL security to A+, the highest grade possible.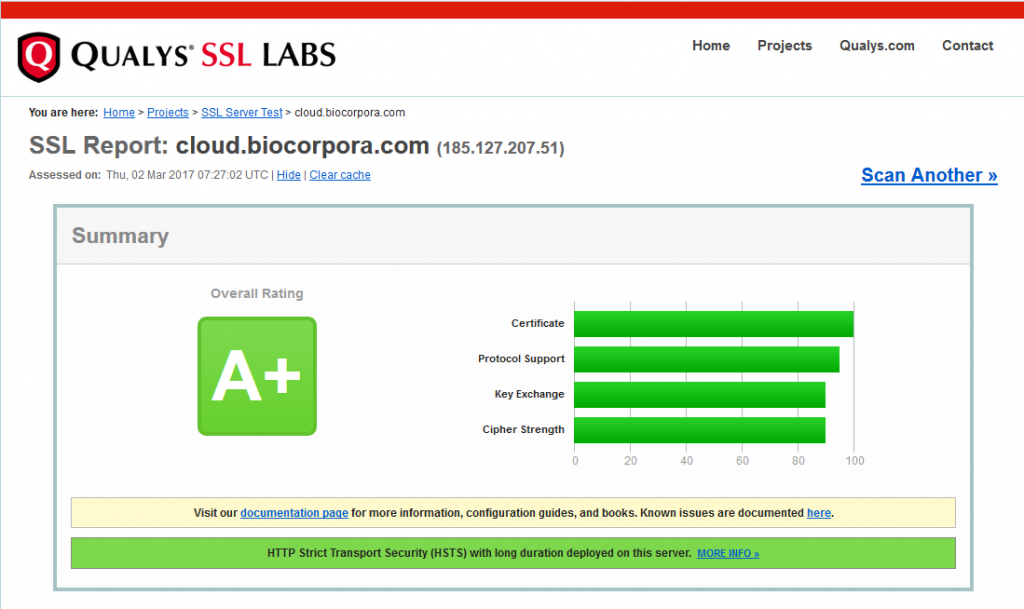 Biocorpora implementation follows the guidelines set by Qualys SSL Lab, as described on Qualys web site. Our security policy is to provide our customers a highly secure access to their data, yet Biocorpora need to be compatible with the browser they use.
About Qualys SSL Lab
Qualys, Inc. (NASDAQ: QLYS), is a pioneer and leading provider of cloud security and compliance solutions with over 6,700 customers in more than 100 countries, including a majority of each of the Forbes Global 100 and Fortune 100. The QualysGuard Cloud Platform and integrated suite of solutions help organizations simplify security operations and lower the cost of compliance by delivering critical security intelligence on demand and automating the full spectrum of auditing, compliance, and protection for IT systems and web applications. Founded in 1999, Qualys has established strategic partnerships with leading managed service providers and consulting organizations, including BT, Dell SecureWorks, Fujitsu, IBM, NTT, Symantec, Verizon, and Wipro. The company is also a founding member of the Council on CyberSecurity and the Cloud Security Alliance (CSA).
Qualys, the Qualys logo and QualysGuard are proprietary trademarks of Qualys, Inc. All other products or names may be trademarks of their respective companies.